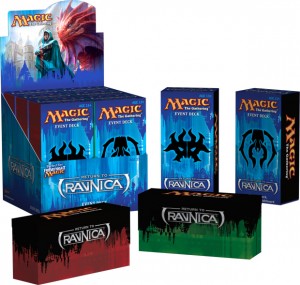 Coming Friday, October 26, 2012: "Return To Ravnica" Event Decks!
As you know, Event Decks are far more competitive than an Intro Deck- and these decks do not disappoint! Whether you're new or looking to try a new deck idea, these decks are for you!
And talk about value! The Golgari deck called "Creep And Conquer" has a Thragtusk (currently $20 on starcitygames.com) and the Rakdos deck called "Wrack And Rage" has a Vexing Devil, Devil's Play, and Mizzium Mortar just to name a few of the rares!
Like all Event Decks, these are limited- we will have a very small supply of them so if you're interested please send me an email or call ahead and I'll set one aside for you!
Want to know what else are in the Event Decks? Go here: http://www.wizards.com/magic/magazine/article.aspx?x=mtg/daily/arcana/1071