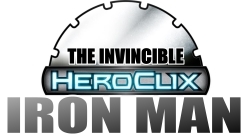 Nothing says "Christmas" like shipping delays!
At this time of year, I think people have almost come to expect the worst.
And here we are.
After a full week of delays, our "Invincible Iron Man" Heroclix shipment has arrived!
Most admit, I feel really fortunate to have a GREAT GROUP OF REGULARS that have a seemingly endless supply of patience and understanding. Delivery dates came and went (without delivery), connections were missed (Purolator status: "Missed Connection"), and snow: lots and lots of snow happened. But, our players stuck by me and I really do appreciate that. To make it up to you, I'm going to do my best to get all of my preorder accounts one Power Source for their Mandarin Rings!
Thanks go out to all of sales reps and distributors- thank you for your patience with me and all of your shipping updates- I know I must've been a real nuisance calling and emailing you everyday asking for more info. Sorry and thank you, guys!
So, our "Invincible Iron Man" Launch Party has been pushed back to tomorrow: Thursday, November 28 @ 6 PM!
See you all, HERE! =)