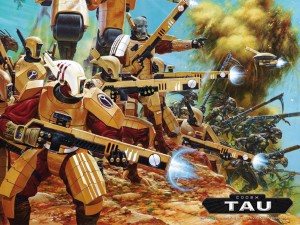 Hello!
Got a call from my GW sales rep today and he explained that GW did not make enough RIPTIDE, CRISIS BATTLESUIT and BROADSIDE models. GW will not be able to fill my orders until May 2013.
TAU COMMANDERs, DARKSTRIDERs, LONGSTRIKEs, and FARSTRIKEs are called "Direct" or "ATO" items and are shipping via a different method- they will NOT be here for the Launch on Saturday, April 6. I expect them two weeks from now.
We have a small amount of Tau Codicies, Hammerheads, Sunsharks, Cadre Firesteams, Pathfinder Teams, and 1 Crisis Battlesuit box  available for sale tomorrow.
I apologize in advance- both GW and I will be working to make it up to those who placed a preorder on any of the 3 missing items.