AFTER CHRISTMAS SALE (THREE DAYS ONLY)!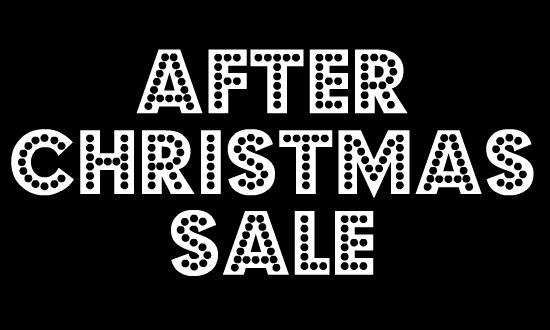 Didn't get what you wanted for Christmas?
OR just looking for a good deal?
Then this sale is for YOU!
We've always worked hard to keep our prices competitive, but twice a year we have a special sales event like this one: After Christmas and our Anniversary! I am very motivated to move all of our stock in order to make room for new items arriving in 2013!
We hope you find what you're looking for here and enjoy the rest of the season!
Regards,
Roy
Before we start, I have a few rules:
Discounts do not stack with any other offer

.
Please know what you're looking for (ideally have a list). If you have no clue what you want, then I won't be able to help you. This is going to be a very busy time for us. Please keep that in mind.
These special offers only apply to items currently instock: no rainchecks or preorders.
Special offers do not apply to special order items (PP Online Store, eBay, comic special orders, etc), Â items on hold, subscription items, and New Release items.
Please,

no

phone calls or phone orders.
Be polite. Â 
WE'RE CLOSED Wednesday, December 26 and Thursday, December 27 in order to setup for this event!
Our sale starts: Friday, December 28, 2012 Â at 12 noon and Ends: Sunday, December 30, 2012 at 6 PM!
1. COMICBOOKS:
All comicbooks (see above for exclusions):
2 for $5

10 for $20

50 for $75

100 for $100
2. TRADEPAPERBACKS/GRAPHIC NOVELS/ COLLECTED EDITIONS:
For every $100 spent on softcovers or hardcovers, you will receive a $25 ThunderGround Gift Card
(see above for exclusions)
3. MAGIC CARDS:
25% OFF Magic Singles

All booster boxes are $99 + GST each
4. WAR GAMES:
For every $100 spent on Warhammer, Warhammer 40K, Warmachine, and/or Hordes models and/or books, you will receive a $25 ThunderGround Gift Card
(see above for exclusions)
All HeroClix packs/Bricks/Starters are 10% OFF
5. BOARDGAMES:
For every $100 spent on boardgames, you will receive a $25 ThunderGround Gift Card
(see above for exclusions)
6. RPGS:
For every $100 spent on RPGs, you will receive a $25 ThunderGround Gift Card
(see above for exclusions)
Our store hours:
*Friday, December 28, 2012: Open from 12 noon to 9 PM
*Saturday, December 29, 2012: Open from 12 noon to 6 PM
*Sunday, December 30, 2012: Open from 12 noon to 6 PM