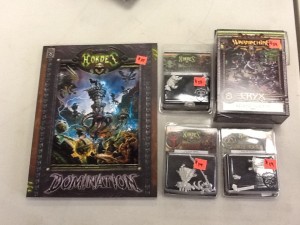 The stars have aligned themselves and our shipment has arrived on time!
New Releases from Privateer Press for the month of November?
We have:
*Domination SC
*Domination HC
*Epic Hexeris
*Epic Baldur
*Sturm and Drang
If you're looking for any or all, please call me as soon as possible and I will do my best to have them ready for you. We have a limited quantity of Hexeris and Baldur for now (the rest of them arrive Friday). If you play any of the Hordes factions, I strongly recommend picking up the new "Domination"book just to see the new models coming our way in 2011/2012!
Looks like "No Quarter" #39 will ship later this month (I do not have an eta).
Remember: Steamroller (50 pts) is coming up Saturday, November 26 at 12 noon!
Regards,
Roy Kim