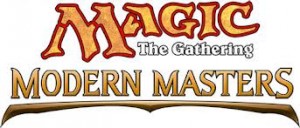 Modern Masters is here!
Our plan is:
1. Host any many Modern Master ($34) Booster Drafts as we can! We'll post our schedule soon!
UPDATE: With our supply starting to dwindle and prices for boxes soaring on eBay and around town, we've decided to raise our entry fee to $40 + GST. That prices includes three packs to draft with and then one pack that goes into the prize pool (40-50% = 1st place, 20-25% = 2nd place, 10-15% = 3rd and 4th, and 0-10% = random. Keep in mind these are approximations depending on how many people enter our event).
2. Sell our remaining shipment to those who've supported us by playing in our Prerelease events and making all of their purchases here! If you're one of those people, please send me a message phone (780-459-9548), email ([email protected]), or FaceBook PM as soon as you can! We're running out of stock!
Thanks and have a great week!