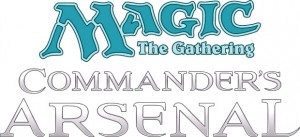 Friday, November 2, 2012, WOTC will be sending us our allocation of "Commander's Arsenal". And we are sold out.
How is this possible? Commander's Arsenal hasn't even been released yet! How could you sell out of it???
Simple.
This is an extremely limited product- far more limited than "From The Vault"! What we do with these incentive products is hold onto them and sell them to those who've supported us, attended all our events, and place all of their orders with us- without them we wouldn't be here.
Sorry for the bad news, I sincerely wish I was able to get more Commander's Arsenal, but that is an impossibility.
This is our game plan for Commander's Arsenal and we will not be deviating from it. Please, no phone calls or emails concerning this product.